The newest Bleach novel, The Death Save the Strawberry by Matsubara Makoto, is out in Japan. (Makoto-san is the author of most of the other Bleach novels, except for Spirits Are Forever With You, which was written by Narita Ryohgo.) Kubo did the cover of Rukia, drew the inside sketches, and came up with the title of the novel (which caused Makoto-san to cry).

At Deathberry, some photographs and information about the novel are being posted :3

Photograph of the novel cover, from Makoto-san's blog:




Rukiaaaaaa. So cute <3333 Makoto-san was also excited by how cute Rukia looks.

The novel also comes with a bookmark of Ichigo and Rukia: Ichigo's side has him as the King of Spades, Rukia's side has her as the Queen of Hearts. <3333

Photograph of the Bookmark, found by Spiderkiss: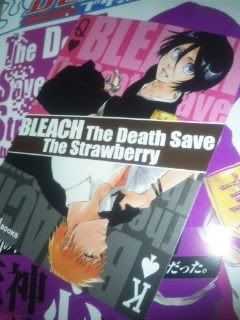 Pikeish translated Kubo's message from the novel:
"It must be really nice to receive mails from all the shinigami"
This was the first point that occured to me when I started reading the novel.

I don't usually imagine how my characters will be if they were real. The characters are existences who constantly live in a world within me so it doesn't really occur to me to think how they will be if they were around me.

Matsubara san's novels allows for me to experience that everytime through her careful writing of the relationships among (the characters) because of her deep insights and affection for the Bleach world and its characters.

It was the same for this particular novel.

"The Death Save The Strawberry"

As for the reason I have given it a title which is connected to Volume 1's I think is something everyone who has read will surely know the best.

That it is because it's a story of acquiring power from the state of nothingness.
That it is drawn to show the interference Soul Society has done externally and internally for Ichigo.
And then because the work, without any doubt is a story about Ichigo and Rukia.

I want everyone to experience with me the work's nostalgia and at the same time its freshness.