Scanned by Mz D at BleachAsylum Original Post

Images and translated script under cut

Edit: changed the part about "tsukanu" as a Japanese friend pointed it out to me.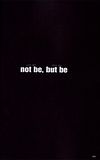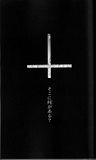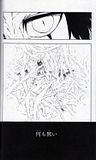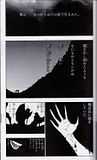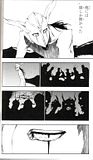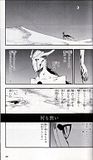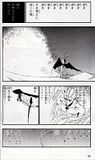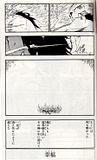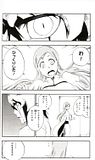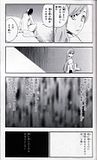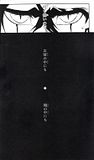 [Page 1]
not be, but be

[Page 2]
What is there, over there?

[Page 3]
There is nothing

[Page 4]
I was born at the bottom of a pit where no light shone.

As if pressed together by the darkness
Uncertain of what to become
Born under those dark, dark sediments

I had a white form
My comrades were all in pure black

In those black forms, with their eyes shining and teeth baring, they were certainly eating something.
And then...

[Page 5]
There was nothing to me, except my eyes.

[[The other hollows wanted to attack/eat ulquiorra but he killed them all and climbed out of that pit himself]]

[Page 6]
I felt nothing
No, rather
It was possible that what I felt was "void", yet
I could hear nothing,
I could bite nothing
I could smell nothing
I could feel nothing as I touch
I could not rest
I had no companion

Just walking, alone

The things reflected in my eyes have no meaning
The things that could not be reflected in my eyes, do not exist.

[Page 7]
Walking
Walking
Walking
Walking
Walking
Walking
Walking
Walking
When I had arrived at that thought
I have found something extraordinary

It was, somewhat, the place of birth for those strange, translucent objects that dotted this world.
It was the first time my eyes have been captured.

With no colour,
With no sound,
With no scent,
Does not interact with anything,
It only exists there.

It was the closest existence to "void" that I had ever laid eyes on.

[Page 8]
I sank my body into that great "void"

There was nothing there,
Even I had lost my line of vision, and dissolved into the void,
And felt as if everything had disappeared.

Happiness.

[Page 9]
Orihime: Wah! You scared me!
I was going to wake you up, but you're awake. I got surprised.
But I was relieved, to know that Ulquiorra-kun could actually sleep

Ulquiorra: .........It's Ulquiorra.

[Page 10]
Ulquiorra: Don't refer to me as you would a human, I said.
When you call me, call me "Ulquiorra"
Call me only that.

If such a thing called happiness exists in this world, it should be something which resembles the limitless nothingness.
Nihility is having nothing, and having nothing to lose.
If that isn't "happiness", then what is?

The things reflected in my eyes have no meaning
The things that could not be reflected in my eyes, do not exist.

[Page 11]
There is nothing

In you

And in me.



Newborn!Ulquiorra speaks in a very archaic fashion, he does talk a bit more modernly during the arrancar arc. Interesting to note.




Enjoy!