Since I realized you're not allowed to argue linguistic semantics in a language you don't understand because it was a sign of desperation. Fine, I'll argue linguistic semantics in a language I DO understand. And the language being the original language Bleach is written in. Yes, Japanese. Because indeed, somethings do get lost in translation.



I'm talking about this page:



I think most people who don't really care for this scene glaze over anything special about what Ichithing was saying. Or you could do the opposite and infer something "special" by what translators have written in those speech bubbles. In any case. Here's what he said after stabbing his best friend in the gut and turning to Orihime:

…ケル [...keru]
助(タス)[tasu]
ケル [keru]
俺(オレ)ガ [ore ga]
助ケル [tasukeru]

You should know from the translation he was saying something along the lines of helping "her".
Now. First of all it should be mentioned that Japanese is a language of unspoken pronouns and ambiguity. You could say merely a verb like "to go", and people would know what you mean.

But grammatically, this only applies to the first person. You would say "taberu" to mean "I'm going to eat/eating". Nothing can be said about what you are eating or going to eat by that sentence alone unless there was a direct context beforehand, like someone asking you "Are you going to eat the sushi?"

How does it apply here? Ichithing was saying "I'll help" without a pronoun. Alright, there was a context, it was facing Orihime as it said so, considering it was her who cried the exact words of "Help me Kurosaki-kun!" However, does it really mean Ichithing itself knew what it was helping? That's not known. Good with that? Good. Because that's not all, the following is what REALLY got lost in translation.


Next point. There are 4 systems of writing in Japanese that people should be fairly familiar with. Hiragana, Katakana, Kanji, and Romaji. In manga, speech is in Kanji/Hiragana while sound effects are written in Katakana. It's interesting to note that Ichithing was talking in full Katakana.

Not looking back too far, there was only one other...thing that had talked in full Katakana. A prize to whoever guesses it...no, just kidding. Here he is: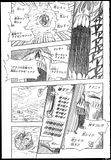 Yup, one of Aaroniero's heads was a Katakana-speaker. Just like our dear friend Ichithing.

What's the writing system used to represent sound effects and loan words doing in normal speech you ask? Manga is a silent medium, so the systems of speech can often give us clues to the kind of character doing the speaking. Katakana is most often used to signify that the speaker is NOT human or does not resemble anything human. Machines, animals, monsters without human capacity of thought are given full Katakana in speech to accentuate their "inhuman-ness". Their speech is recognizable, but alien, if you know what I mean.

Alien and inhuman, only able to repeat the last coherent words it had heard before it was borne from the mind of our hero... Not being able to recognize one of his best friends, brutalized the enemy in a way more villain-like than most of the villains Bleach had seen... yet capable of LURVE? Hmmmmmmmmmmmmmmmmm

Anyways, I hope that in addition to reading translated versions of Bleach, you should give the raws a go too, if you command basic Japanese, you might find some interesting things that just...get lost in translation. :)


ETA: Guys, guys. I'm only telling the truth here. :cookiemonster: It's no reason to assume I'm trying to argue fervently against anything. Really. :elmo: The manga speaketh what it doth speak.