Happy New Year, all!
I got my copy of the latest Jump today and scanlated the "Byakuya's Gift" 4-koma:




Additional notes that were too long to include:
1. Byakuya says "bestow upon you a New Year gift" because in the original Japanese, he says 兄に年玉をやる, "Kei ni toshidama wo yaru" - yaru means "give" in the context of giving something to a lower life formXD (eg Watashi wa inu ni mizu wo yaru - I gave water to the dog). So after thinking about it a while I went with "bestow" because while Byakuya's being incredibly generous as well as putting Ichigo on the same level as a Kuchiki noble... he's still being snotty.XD

2. Byakuya does indeed use 兄 to refer to Ichigo, as an archaic and polite form of "you" - though it's more commonly used now to mean "older brother."

...oh and please let me know if I translated anything wrong... Japanese is VERY not my native language, though I find Jump's pretty easy to read.

The raw is here


EDIT! I have found the meaning of the cracky omake! Which is to say the even MORE cracky New Year omake!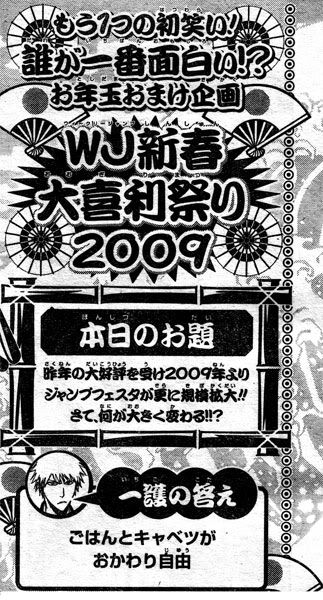 I can't make any sense of this. Ichigo's answer roughly translates to "Free-flowing rice and cabbage"...? All I can tell is that they're trying to find the most interesting answer to the question.XD
:edit: And OK, the question was along the lines of "Jump Festa has expanded a lot this year, what do you think was the biggest change?"
...And Ichigo's answer still makes no sense unless the concession menu was extremely limited.XD


And! Important News!! The chibi-IchiRuki poster is going to be in Winter Akamaru Jump, which is to be released on January 10. It's not in this issue=.=;